Business management
Our approach
Our approach is underpinned by a comprehensive 'Business Management System' - which is designed to ensure that a business follows the best possible route forward and achieves positive results with the least amount of wasted effort.
Every business, irrespective of size, has a 'Business Management System' - whether it is highly structured and well defined or alternatively 'just exists'.

The Six Sigma Business Management System is referred to as RAPID™.

We are indebted to Transport for London for having given us permission to show the bones of our Business Management System in the format of their underground map.

The System is fully documented and, because it has been designed as a complete system, all the individual parts fit seamlessly together.

It is a system that we use internally within our own business and as such it is continually refined to ensure that it remains at the leading edge.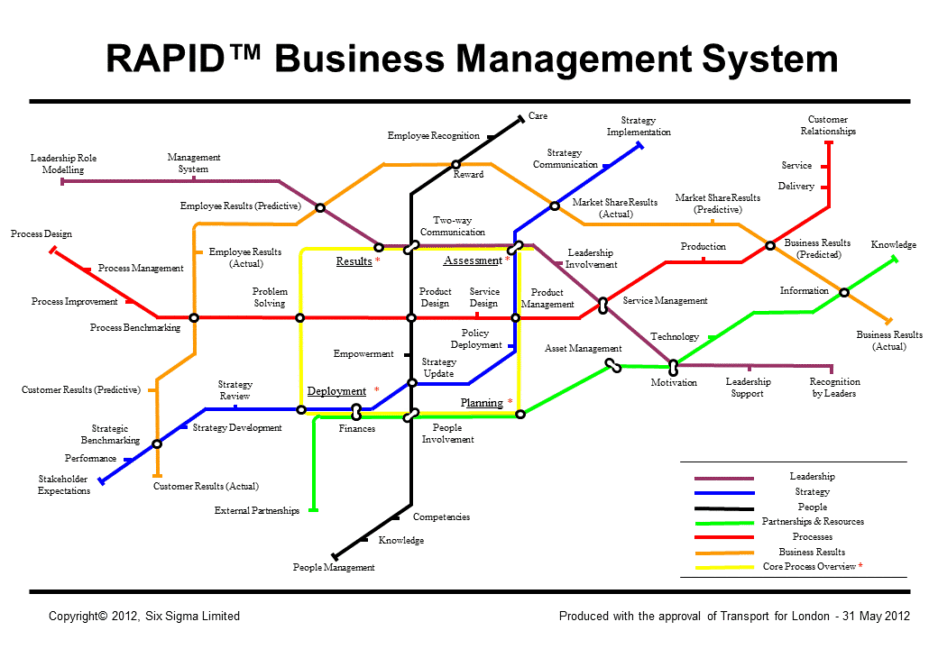 It simplifies the route forward for organisations because it "cuts through the fog" and the noise of everyday business.

The approach is totally 'end results driven' - i.e. where improvement actions are identified, prioritised and deployed throughout an organisation (irrespective of size) to deliver desired business results covering both financial and non-financial perspectives. This approach eliminates piecemeal business improvement activities.


The system is built around three inter-linked components - Assessment, Planning and Deployment as shown in the following schematic:-